Publication in gwf Gas+Energie 2022 03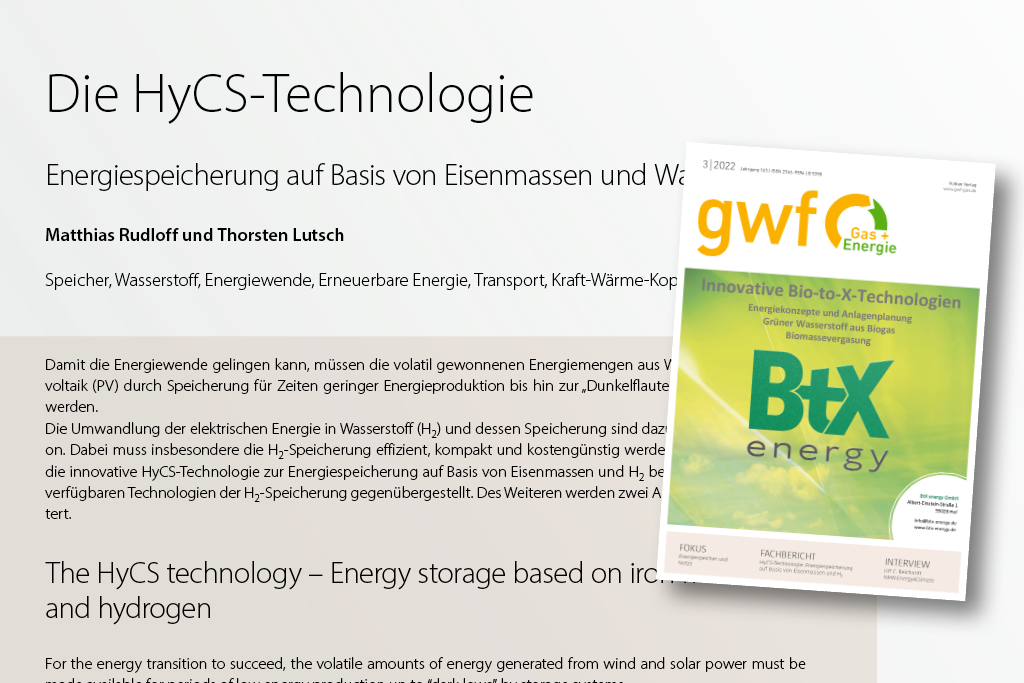 In the current issue of gwf Gas + Energie, Matthias Rudloff and Dr.-Ing. Thorsten Lutsch are featured with a technical article on the HyCS® process.
Damit die Energiewende gelingen kann, müssen die volatil gewonnenen Energiemengen aus Windkraft und Photovoltaik (PV) durch Speicherung für Zeiten geringer Energieproduktion bis hin zur "Dunkelflaute" verfügbar gemacht werden. Die Umwandlung der elektrischen Energie in Wasserstoff (H2) und dessen Speicherung sind dazu eine relevante Option. Dabei muss insbesondere die H2-Speicherung effizient, kompakt und kostengünstig werden.
Im Folgenden wird die innovative HyCS®-Technologie zur Energiespeicherung auf Basis von Eisenmassen und H2 beschrieben und marktverfügbaren Technologien der H2-Speicherung gegenübergestellt. Des Weiteren werden zwei Anwendungsfälle erläutert.